Posted by Austin Bazaar on 7th Dec 2015
Whether you want a microphone to record music at home, produce a podcast, or provide the perfect sound for a live event, we've got you covered with a wide selection of microphones.
---
What Type of Microphone Do You Need?
With so many types of microphone out there, it can be hard to decide which one is right for you. We put together this microphone buying guide to help you choose the right microphone for your needs. Check out our handy Microphone Guide infographic and a breakdown of some of our favorite microphone models below!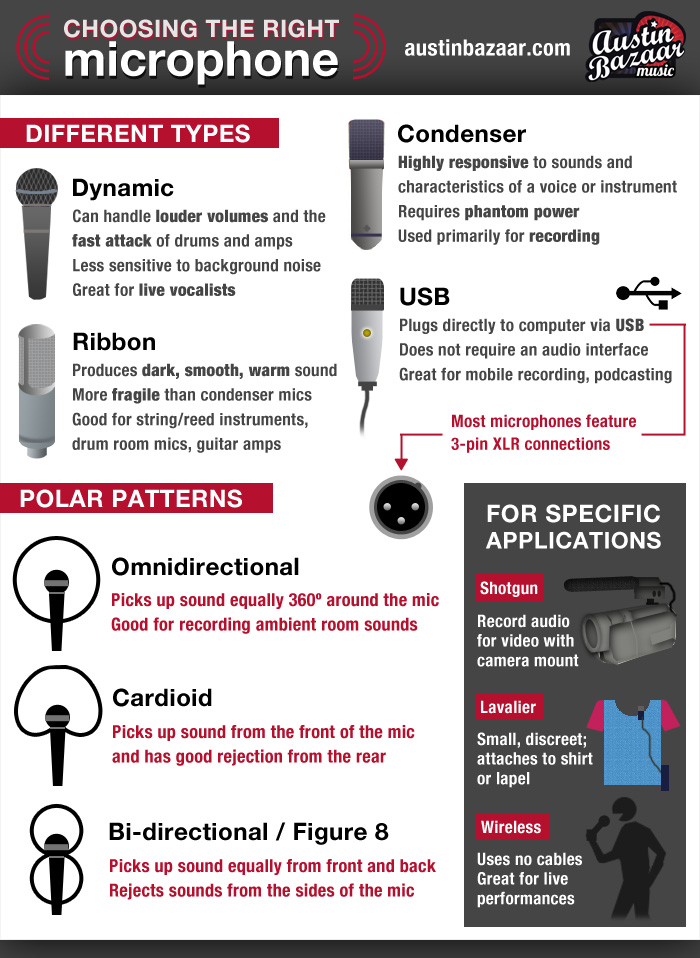 ---
Dynamic Microphones
Simple and sturdy, dynamic microphones are the go-to choice for both live performance and demanding recording environments. Many dynamic microphones are versatile enough to record either vocals or instruments.
RECOMMENDED MODELS
---
Condenser Microphones
Condenser microphones provide good sensitivity at all frequencies to make recordings shine. These microphones are also often used where a wide band of frequencies is to be picked up - i.e. recording choir vocals, acoustic pianos, or hi-hat cymbals. Condenser mics are also great to use overhead to pick up sounds from an entire drum set.
RECOMMENDED MODELS
---
USB Microphones
For hassle-free home recording on a budget, USB microphones really can't be beat. These portable, plug and play microphones make it easy to produce audio for videos, podcasts, demos and more without a complicated setup.
RECOMMENDED MODELS
---
---
Still not sure which microphone to get? Email us at customerservice@austinbazaar.com or call 800-511-1322 and we'll be happy to help you out!